| | | |
| --- | --- | --- |
| | | |
Dalila de Kiungwana of Red Namib Sands
DoB.: May 14th 08
LOF 6 RHO.RID 2494/
Height: 67 cm/´26,38 inches
Weight: 38,5 kg/ 84 lbs
HD-A1, ED- and OCD-free
Dilute Status: DD (homozygous)
full scissor bite
red wheaten
black nose with mask
Breeder: Dr. Marion Reddy, France
Has passed German breeding test on March 27th 2010 including check-ups on confirmation, character and a gunshot test.
Dalila is beautiful, noble and elegant all in once. She has a black nose with mask and is very sensible, affectionate and cuddly. Her docility and readiness to work is making it a pleasure to perform Dog-Sports like Agility and Obedience with her. We practice together three times a week.
Her pedigree is merging the very best of South African bloodlines. Both of her parents are born in South Africa and were imported directly to Europe. Dalila' s mum Lionhill Loya of Glenaholm descends from the worldwide well known Rhodesian Ridgeback line from the Glenaholm Kennel of Laurie Venter.
After we have lost our beloved Jola by a tragic accident much to early we knew that our new female should have as much Glenaholm blood in her veins as possible. When we recognized that Dalila's Granddad from her mothers side is a littermate of Jola we were sure that we had fund what we wanted.
Dalila's dad Pronkberg Manyona descends as well from one of the old and very well known south African Rhodesian Ridgeback Kennels: Pronkberg! From this side of the pedigree one of her granddad's is the famous Ch. Apalachee Umqolo of Pronkberg who was dark red wheaten and had an excellent movement thanks to his perfect angulations.

Here some pics from Dalila's time as puppy: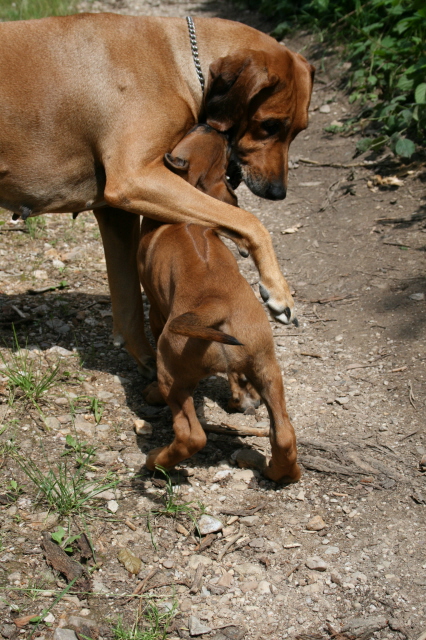 -----------------------------------------------------------------------------------